You just ordered a pizza online from your favorite pizzeria. Within seconds, you receive confirmation of your purchase. From the moment you ordered it, through when it's delivered, you can track its progress online.
Not only does this transparency provide you with peace of mind, but it also lets you be far more efficient with your time. You can do other things - not wait expectantly by the door until it's delivered.
All of this is great. So, shouldn't you require the same level of knowledge – and control - about where your invoices and supplier payments are at every step along the way – from invoice receipt to payment? After all, your company's cash and its relationship with suppliers is far more important than one casual dinner.
Visibility is Especially Important Now
Many AP automation companies will provide some data about your processed invoices and payments. But they also have big gaps or blind spots throughout the AP ingestion and payments process too.
That's a problem because today, more than ever, transparency is not only necessary for peace of mind, it's also important for managing the business.
While there are many reasons why transparency is crucial, two reasons stand out now:
AP Teams Are Working from Home
Lots of real estate companies have AP teams working from home. That means getting an answer about the status of an invoice (whether it's approved or not), or if it's getting paid next week, or why it has been rejected, isn't as easy as shouting over the cubicle or walking down the hall.
That's true for both buyers and suppliers. Since neither are in their offices, having an easy-to-use platform where both can check invoice and payment status – and where data is updated regularly – is essential.
In challenging times, cash flow is king. And it's far easier to manage and optimize cash flow when you know where both your invoices and your payments are in their lifecycle. It's certainly important to be able to view:
if employees are complying with purchasing rules

whether invoices have been input in the system, and if there are duplicates

if invoices are getting stuck in approval workflows

if you have overpaid on any invoices

if any payments haven't been sent to suppliers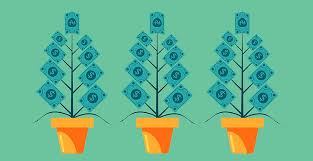 Three Blind Spots Commonly Found with Today's AP Automation and Payments Providers
Many AP automation companies can provide a lot of data for AP teams to review – how many invoices were processed, how fast they were processed, etc. But not all of them provide the data that counts, with respect to real-time visibility.
Here are three of the most common blind spots that occur with AP automation and payments.
1. The Black Hole for Suppliers
Once suppliers drop an invoice in the mail – or send via email – they're often left to just hope it reaches the right destination. That's why your AP team hears from them (sometimes repeatedly) wanting updates on where things stand. They like knowing the status of their invoices and their money just as much as you do.
And this is no way to operate since, in real estate, key suppliers can make or break you.
Thus, it's important that suppliers can self-serve and check the real-time status of their invoices and their payments. If they can check that an invoice has been submitted, approved, placed on hold, rejected, etc., there's no "black hole".

Suppliers should be able to view the status of their invoices in a glance
Moreover, suppliers also need to know payment status throughout the entire payment lifecycle. And this knowledge helps you too. For example, if suppliers can log in to a portal and check whether a virtual card payment has been issued but remains unprocessed or see that it is partially unprocessed (and grab the card info they need in seconds), or that a check has been sent, they'll be able to take action immediately, and not wait at their inbox, or their mailbox (similar to how you don't wait to wait by the door for your pizza).
All of this visibility not only means that suppliers will be processing their payments on time, but it also ensures that they'll want to work for you again, even if it means getting up in the middle of the night.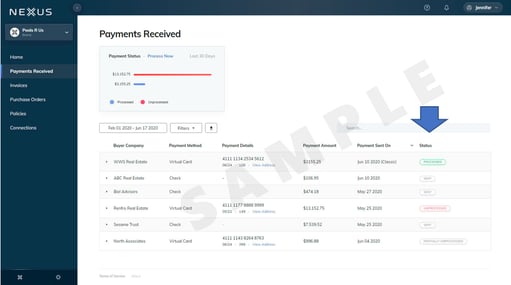 Suppliers should be able to see their processed and unprocessed cards at a glance – without needing to make any calls
2. Property Managers and Other Invoice Submitters Are in the Dark About Payment Status
It goes without saying: the AP team absolutely needs to know where invoices are from receipt, through coding, approvals, and payments.

But what about your property managers, or others, who received and submitted the invoice initially? Do they have access to view the invoice and see its payment status? Or are they calling around to AP team members who might be working remotely?
Giving property managers and others who need to know the status of invoices an ability to easily view this information is something to keep in mind when selecting an AP automation solution.

3. Check Payments Are One Big Guessing Game
Let's say when your AP Automation company pays your suppliers on your behalf, it issues checks to some of those suppliers. How are those checks issued? Are they cut using your own bank accounts – with your own check numbers? Or are they cut from a centralized/pooled bank fund? If it's the latter, you may face some obstacles:
Reconciliation may be more difficult as you won't be able to trace your funds. Moreover, the money may be held up for a few days, while it's in the centralized pool.

Adding or changing the bank accounts (used for paying suppliers) may be difficult and require relying on others, like the AP Automation software's support team. That can be problematic when banking relationships change.

You may have challenges performing a stop payment once approvals have been issued.
These are important questions to ask – before you sign up for an AP automation and payments company, because you and your team don't want to be stuck with blinders on, especially when closing the books at the end of the quarter.


Don't Settle for a Lack of Visibility
Many AP automation providers - particularly those who offer supplier payment capabilities – will promise large rebates on your spend and/or quick implementation timelines. But, if the solution leaves you with blinders on as you process invoices and pay them, you can experience the problems outlined above, plus:
Added stress amongst your AP team and suppliers

More re-work

Higher volume of phone tag

Deteriorating relationships with vendors
So, it's important to put a priority on visibility throughout the AP process. Your cash flow - and your teams - depend on it.